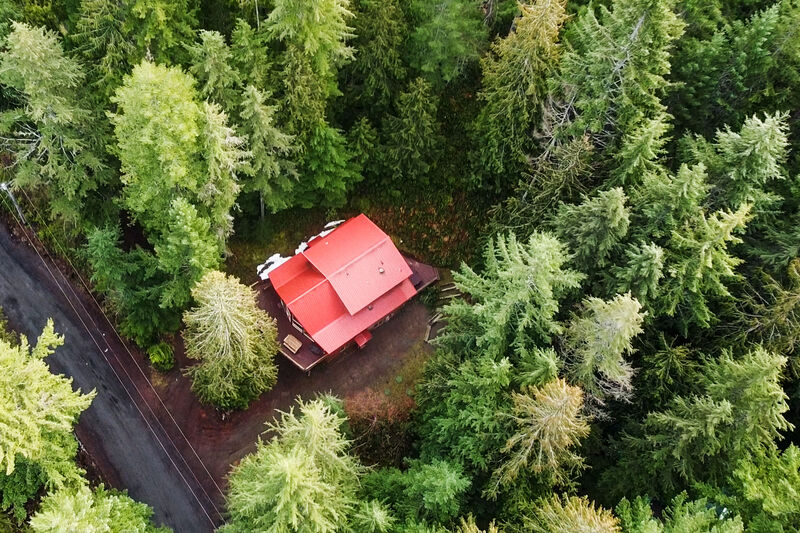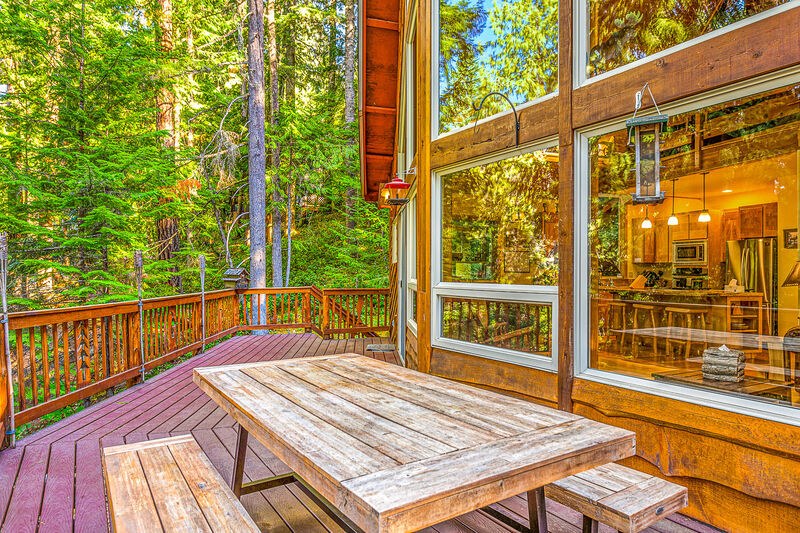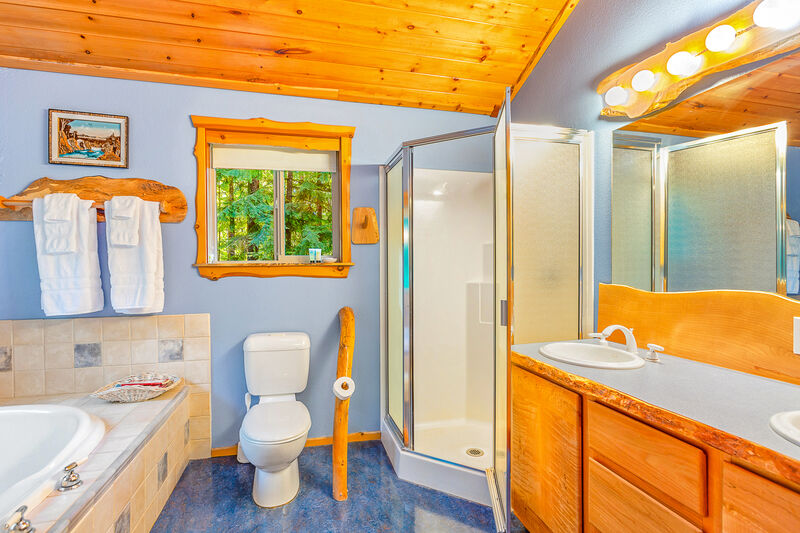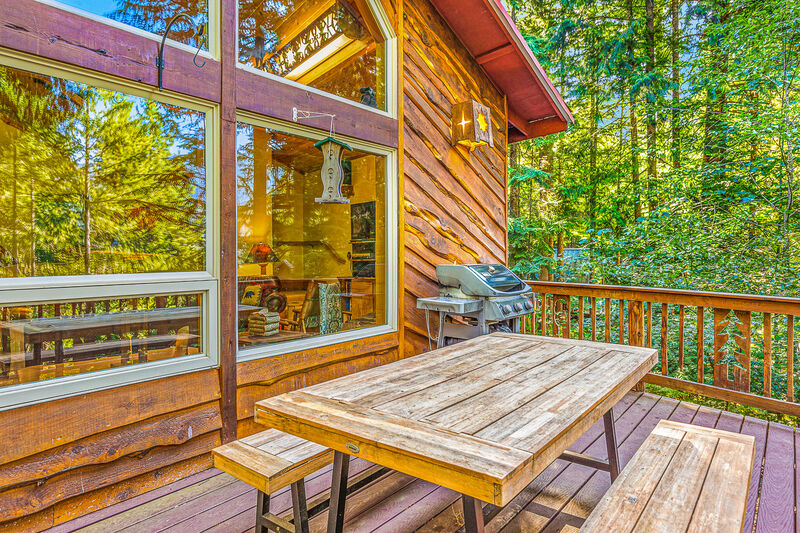 Tucked into the Gifford Pinchot National Forest, the breathtaking view of the Tatoosh Mountain Range makes this chalet the perfect mountain getaway. There are several outdoor activities nearby that will remind you of just how great it is to get out of the city.
About Moosewood Manor
In a quaint area of Packwood Washington, deep within the mountains of the Pacific Northwest, is a two-story 2300 square foot chalet with a modern architectural approach.
Three bedrooms, a den, two and a half baths, kitchen and living areas, and an open floor plan provides more than enough space for you and your group to enjoy each other's company, as well as have privacy.
As soon as you enter, you will be met with spacious vaulted ceilings. All of the beautiful finishing is designed by the woodworking company Randle Woods.
There is a top-grade kitchen with cabinetry, stainless steel appliances and high-quality utensils. Sit down in the dining room and have a meal with a view of the forest green environment.
Use the comfy living room to lounge on the large leather sofa and beautifully crafted rocking chairs. Sit by the toasty fireplace, play games, watch your favorite shows on a flat-screen TV, or just rest after a long day of adventures.
Before you go to bed you can take a dip in the large hot tub or gather round the firepit and roast marshmallows, all while taking in the starry night sky.
What Guests Have To Say
"What an awesome find! First time family has been together in 3 years and this Thanksgiving was made special because of Moosewood Manor. Seriously, the pictures don't do this beautiful home justice…SO WONDERFUL!" … Wendy W.
"We enjoyed our stay so much we would to stay again! Nice house. Beautiful and clean. Hot tub was perfect. Master suite was romantic. Kitchen was big and well stocked." Tammy K.
More About Moosewood Manor
Sleep tight in any of Moosewood Manor's cozy beds. The cabin sleeps up to 10 adults and two children, so don't worry about anyone having to sleep on a couch.
Walk up to the second floor and find what can truly be considered a master bedroom. The room includes a hand-crafted, king-sized log bed, walk-in closet, and another fireplace. Connected is a master bathroom, with a five-star tub that fits two, a shower, and double sinks.
Back down on the first floor are the two additional bedrooms and bathroom.
The first room comes with a queen-size log bed while the second room has a full-size murphy bed along with a bunk bed for the little ones.
There is even more sleeping space with two futons in the den, a sleeper sofa in the daylight basement. This is no boring basement. It is supplied with a second TV accompanied with a DVD player, mudroom, and half-bath.
With the Mt. Rainier National Park and White Pass Ski Area both being less than a 30-minute drive, there are plenty of exciting activities, such as fishing, skiing and hiking, to enjoy during your stay. Up to two dogs are welcome with our standard, per dog, per night fee.
About Packwood
When booking any of our Packwood properties, you'll have access to some of the most exciting adventures in the State of Washington.
Packwood is just a few minutes from Mt. Rainier's Steven's Canyon entrance, where you can hike the trails, enjoy the scenic views or look for wildlife.
The town offers some exciting fun, as well, whether you're looking to relax or just escape the city life and soak up the quaintness of a small town.
Here, you can enjoy flea markets and a variety of shows, ranging from automobiles to arts & crafts. During the colder months, Packwood has a Christmas festival plus a winter carnival, both of which attract everyone who wants to indulge in a little holiday-spirited fun.
The Packwood Properties Promise
Packwood Properties is the only full-stack vacation rental management company in the area. We vow to make booking with us simple and exciting. We know that booking a rental property home for your vacation can be unfamiliar territory for some, while others know their way around it. Because we know this, we ensure that each of our properties is up to high-quality standards.
We do our absolute best to provide support to our guests when booking.
We are available to assist you every day of the year if you have any questions or concerns before, during or after your visit to our home. We have on-site property management that is available 24/7 for anything concerning that may arise.
Deck
Gas Fireplace
All Dogs Allowed
Pet Friendly Property
Ski Area
Propane Barbecue
Private Hot Tub
Fire Pit Seasonal
High Speed Wireless Internet
Name: Moosewood Manor
Status: Active
Rating:

Type: House
Country: United States
State: Washington State
Destination: Mount Rainier
Location: Packwood
Condominiums: Timberline Village
Setting: Mountain Home
View: Partial Mountain View
Internet: Yes
Sq. Ft: 2,208
Floors: 2
Entrance Floor: 1
Bedrooms: 3
Beds: KQTLCC
Bunks: Yes
Baths: 2½
Normal Occupancy: 6
Sleeps: 6
Max Occupancy: 10
Parking: 2
Pets: Dogs
Checkin: 05:00 pm or later
Checkout: 11:00 am or earlier
Website: MoosewoodManor.com
Manager: Packwood Properties
BED CODES: K=King, Q=Queen, F=Full, T=Twin, C=Futon Couch, M=Mattress, A=Air Mattress, L=Sleeper, S=Sofa, U=Trundle Bed, D=Day Bed
Tucked into the Gifford Pinchot National Forest, the breathtaking view of the Tatoosh Mountain Range makes Moosewood Manor the perfect mountain getaway.
Property
Deck Unit
Balcony Unit
Living Room - Including Sofa, Led/TV, etc… Unit
Full Kitchen Unit
Jacuzzi Bath Unit
Hairdryer Unit
Air Conditioning Unit
Heating & Air Conditioning Unit
Child Friendly Unit
No Smoking Unit
Gas Fireplace Unit
All Dogs Allowed Unit
Ceiling Fans Unit
Two Car Parking Unit
CO Detector(s) Unit
Pet Friendly Property Unit
Setting
Mountain Area Unit
Mountain Home Unit
Mountain Top Location Unit
Ski Area Area
View
Full Mountain View Unit
Kitchen
Gas/Charcoal Barbecue (Charcoal Not Provided) Unit
Pots & Pans Unit
Cooking Range Unit
Refrigerator - Freezer Unit
One Days Sundries Unit
Dining Area Unit
Paper Towels Unit
Microwave Oven Unit
Refrigerator Unit
Dishwasher Unit
Electric Stove Unit
Toaster Unit
Oven Unit
Coffee Grinder Unit
Flatware Unit
Glassware Unit
Plateware Unit
Coffeemaker Unit
Cooking Wares Unit
Crock Pot Unit
Propane Barbecue Unit
Blender Unit
Bath
Toilet Paper Unit
Cleaning
Clothes Dryer Unit
Clothes Washer Unit
All Linens Provided Unit
Cleaning at Departure Unit
Convenience
Espresso Stand Area, 3 Miles
Post Office Area, 3 Miles
Catholic Church Area, 5 Miles
Evangelical Church Area
Protestant Church Area
Services
Convenience Store Area, 3 Miles
Full Service Restaurants Area, 3 Miles
Hair Salon Area, 3 Miles
Medical Clinic Area, 16 to 20 Miles
ATM Area, 3 Miles
Jet Service Airport Area, 50 Miles or more
Small Plane Airport Area, 50 Miles or more
Entertainment
Dancing Area, 3 Miles
Dart Board Area, 3 Miles
Pool Table Area, 3 Miles
Private Hot Tub Unit
Television Unit
DVD Player Unit
Stereo Unit
Video Rentals Unit
Activity
Big Game Hunting Area
Sledding Area Area, 26 to 30 Miles
Fire Pit Seasonal Unit
Water Park Area, 50 Miles or more
Mountain Climbing Area
Bird Hunting Area, 10 to 15 Miles
Inner Tubing Neighborhood
Antique Stores Area, 3 Miles
Seasonal Camp Fires Allowed Seasonal Unit
Airplane Tours Area, 10 to 15 Miles
Helicopter Tours Area, 10 to 15 Miles
Zip Line Tours Area, 50 Miles or more
Biking Area, 1 Block
Bird Flyways Area
Wildlife Tours Area, 50 Miles or more
Business
High Speed Wireless Internet Unit
Sports
Hanggliding Area, 10 to 15 Miles
Snowboarding Area
Snowmobile Rentals Area
Freshwater Fishing Area
Hiking Area
Mountain Biking Trails Area
Swimming Float Area
Lake Swimming Area
River Swimming Area, 10 to 15 Miles
Water Skiing Area
Helicopter Skiing Area
Snowmobile Trails Area
Rock Climbing Area
Attraction
Tavern Area, 3 Miles
The Gorge Amphitheater Area, 50 Miles or more
Farm Stores Area, 3 Miles
Outlet Stores Area, 3 Miles
Wineries Area, 16 to 20 Miles
Zoo Area, 50 Miles or more
Volcano Area, 50 Miles or more
Wildlife Viewing Area
Flea Market Area, 3 Miles
National Parks Area
Public Parks Area, 3 Miles
Churches Area, 3 Miles
Aquarium Area, 50 Miles or more
Festivals Area, 3 Miles
Scenic Driving Area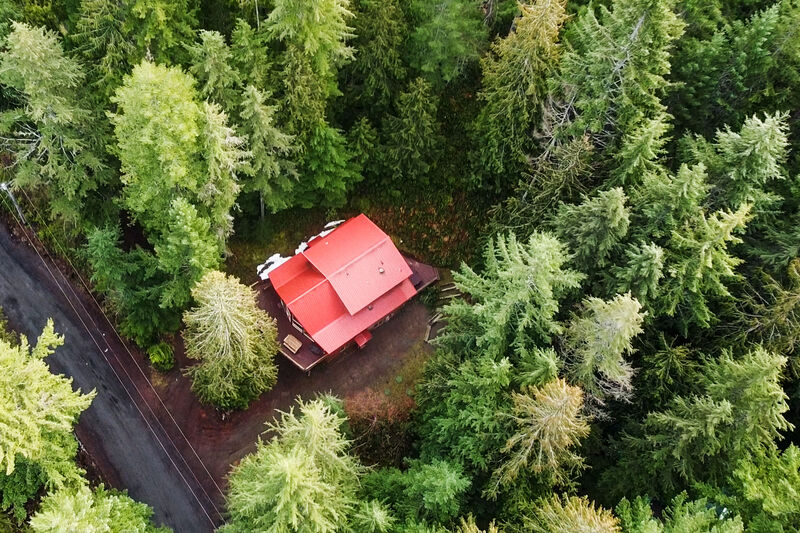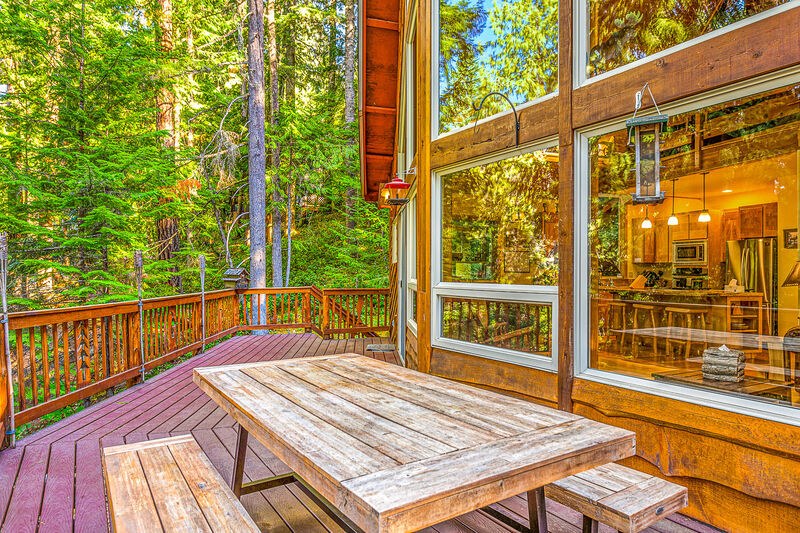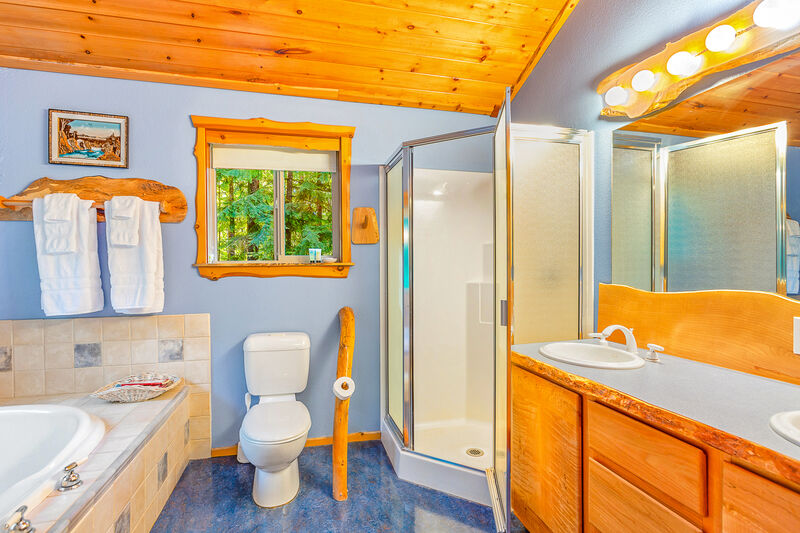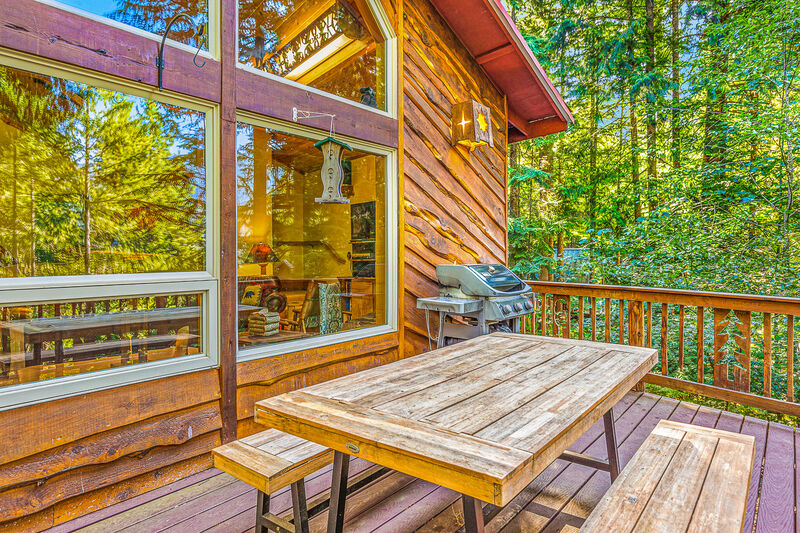 Pre Christmas Family Get-Away
We went to Packwood to spend a few days in the snow. We wanted a family gathering place to make Christmas cookies, play games, tell stories and enjoy each other's company. We had a great time at Moosewood Manor.
Pictures don't do this property justice!
SO WONDERFUL!
Home away from home
This cabin really felt like a home away from home. Very spacious, but with a cozy feel. Loved the fireplaces.